Cake Smash Session
Thank You for your interest and   visit my website, If you are planning to have Smash cake session for your baby's first birthday, You are in the right spot, Please take a moment to review important information about the Smash cake session.
Cake Smash session include one customized set up to celebrate your baby first birthday. The set up is customized with the theme or color of your choice.
No Idea what theme for the smash cake? Here some tips.
You can choose the theme base on the same theme of the birthday party. If you are planning to use the photos for invitations party or for the birthday party, you may want to go with the same theme and colors for the custom set up.
Also you can choose the theme based in your baby's favorite book, or animated character from a movie or tv show.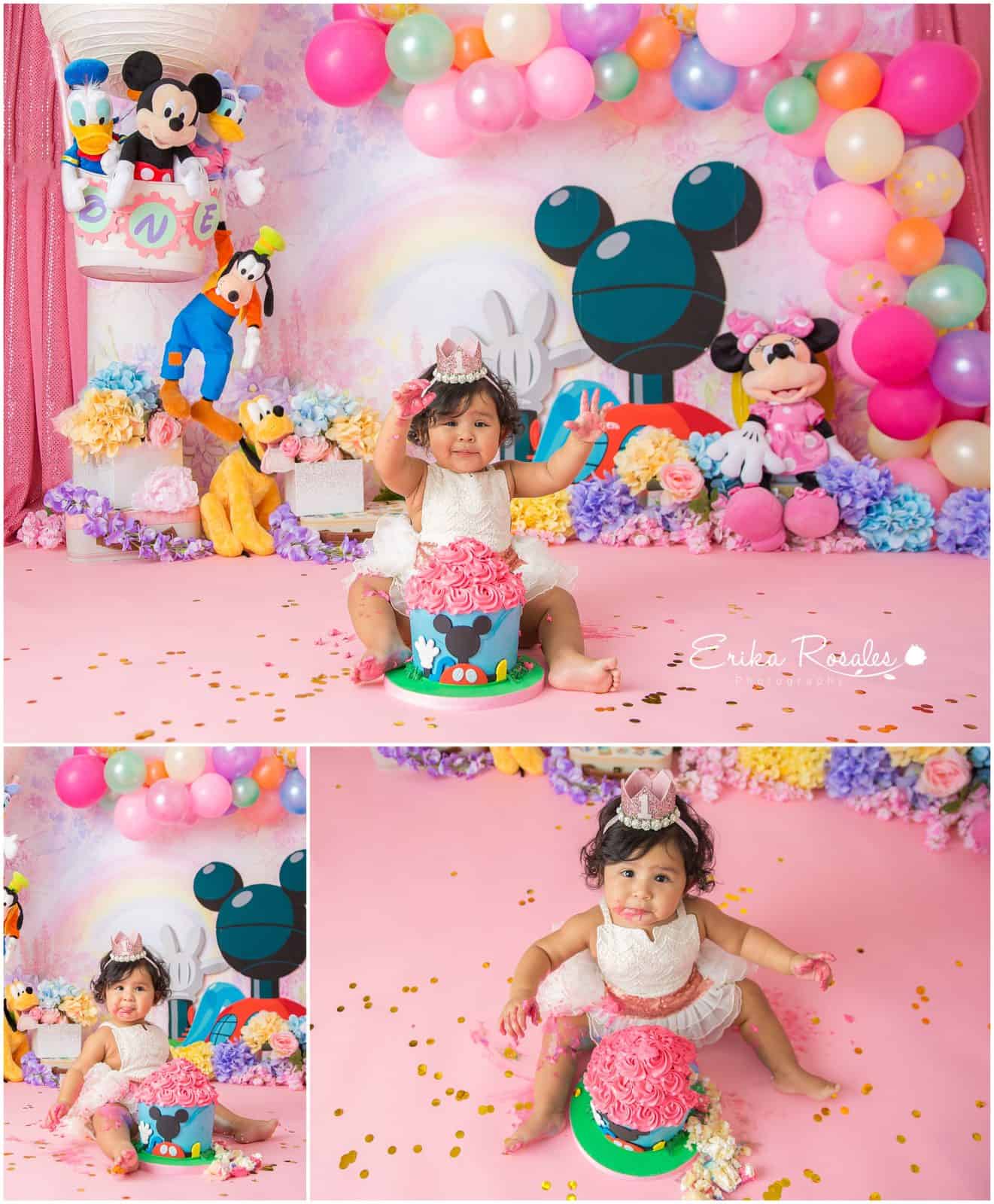 Time and date is very important when you are booking your session.  
If you are planning to use the photo for invitation or the birthday party, I suggest to do it at least 6-4 weeks prior the date of the party,
Time enough to have ready invitation and photos for the birthday party.
The time of the session is important to have in mind the time of your baby's nap. I recommend do the session after your baby's nap for a successful session. When time is close to the nap time, baby get cranky and fuzzy, Not good idea for the session, After the nap time is great because baby have energy and in good mood.
Once you have chosen the theme, date and time, next is the outfit, Don't worry, I have your back. I know you are a busy mom and your time is precious. I have a collection of outfit for both changes.
During the session Baby will taste, eat, play, dirty and may cry. Anything can happen. If your baby is not familiar with the cake I will suggest to prepare your baby at least a week before the session. Some baby don't like to be dirty.  I will  suggest  to allow  your  baby touch  and  play  with  the  food. 

Parents prepare to get dirty, Daddy and Mommy will be part of the fun and may also get dirty, I recommend to bring an extra
change of clean cloth for the baby and for parents.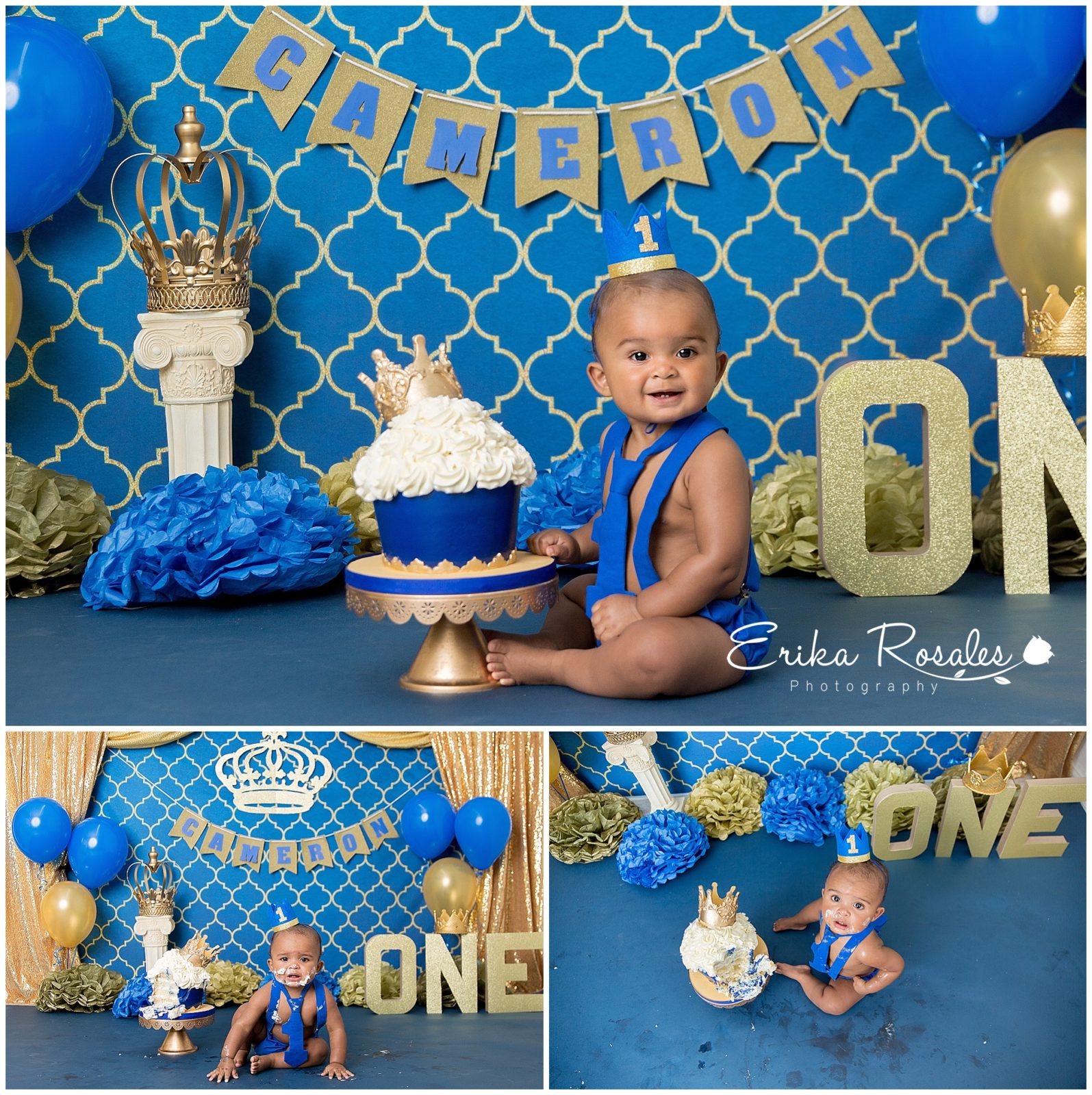 After the session you will receive a link and a password for  an online gallery from 5 business day (Monday- Friday), This Online gallery is for proof only, where you can review the photos from the session up to 35 photos. From this link you can purchase your favorites from canvas, photobooks or digitals photos.
The online gallery will be available for 4 weeks, enough time to decide how do you wish to keep your baby memories.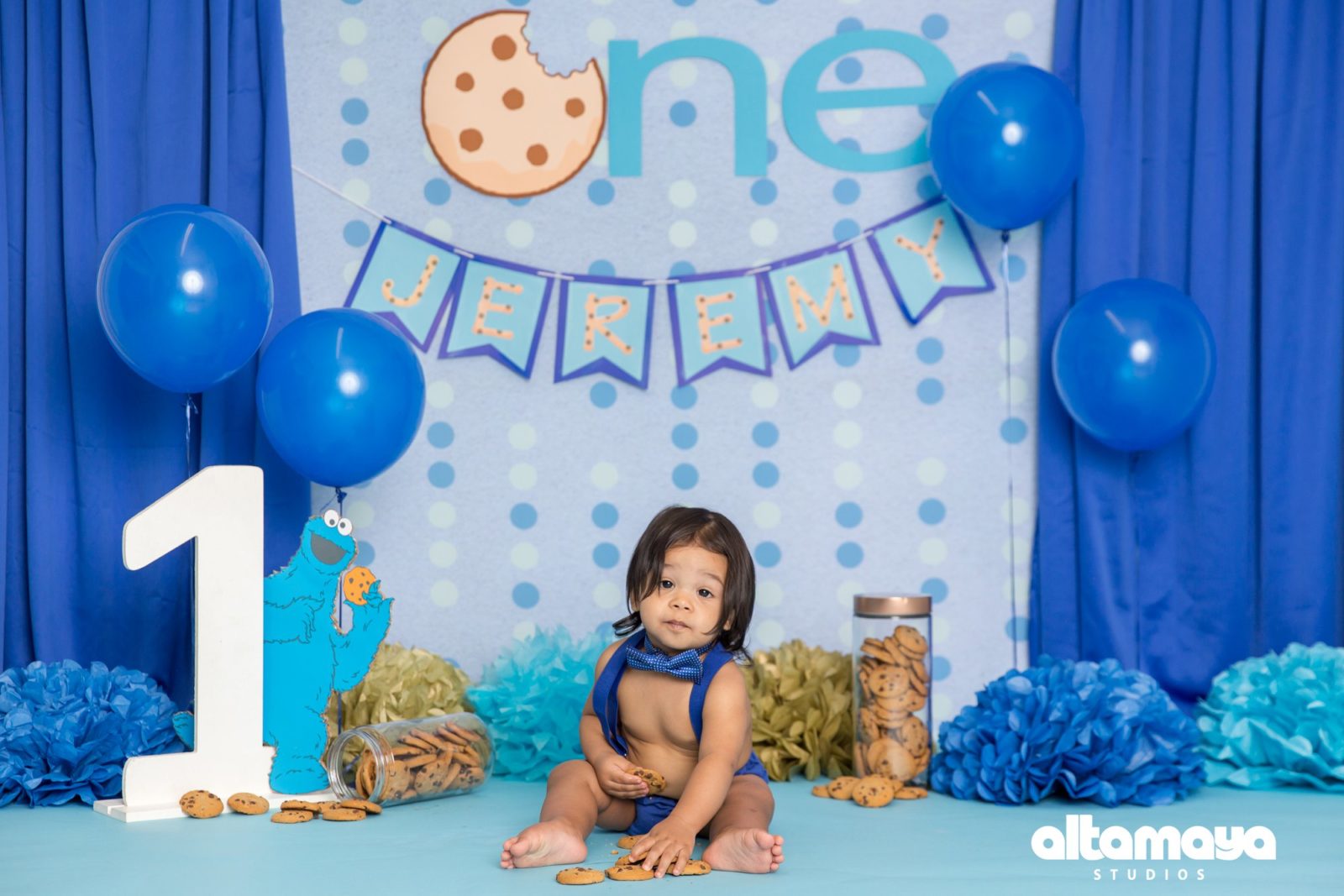 Every Smash cake set up is customized with the color and theme of your choice and plan, prepare and make it done takes time, Sometimes I may need to buy or made a prop for the set up, and this will take time.
Baking Smile takes care of the elaboration of the cake. For this Martha requires time for planning and make the cake. I suggest to book and make your deposit at least 4 weeks in advance, I require a deposit to secure your spot, star working in the set up and order the cake.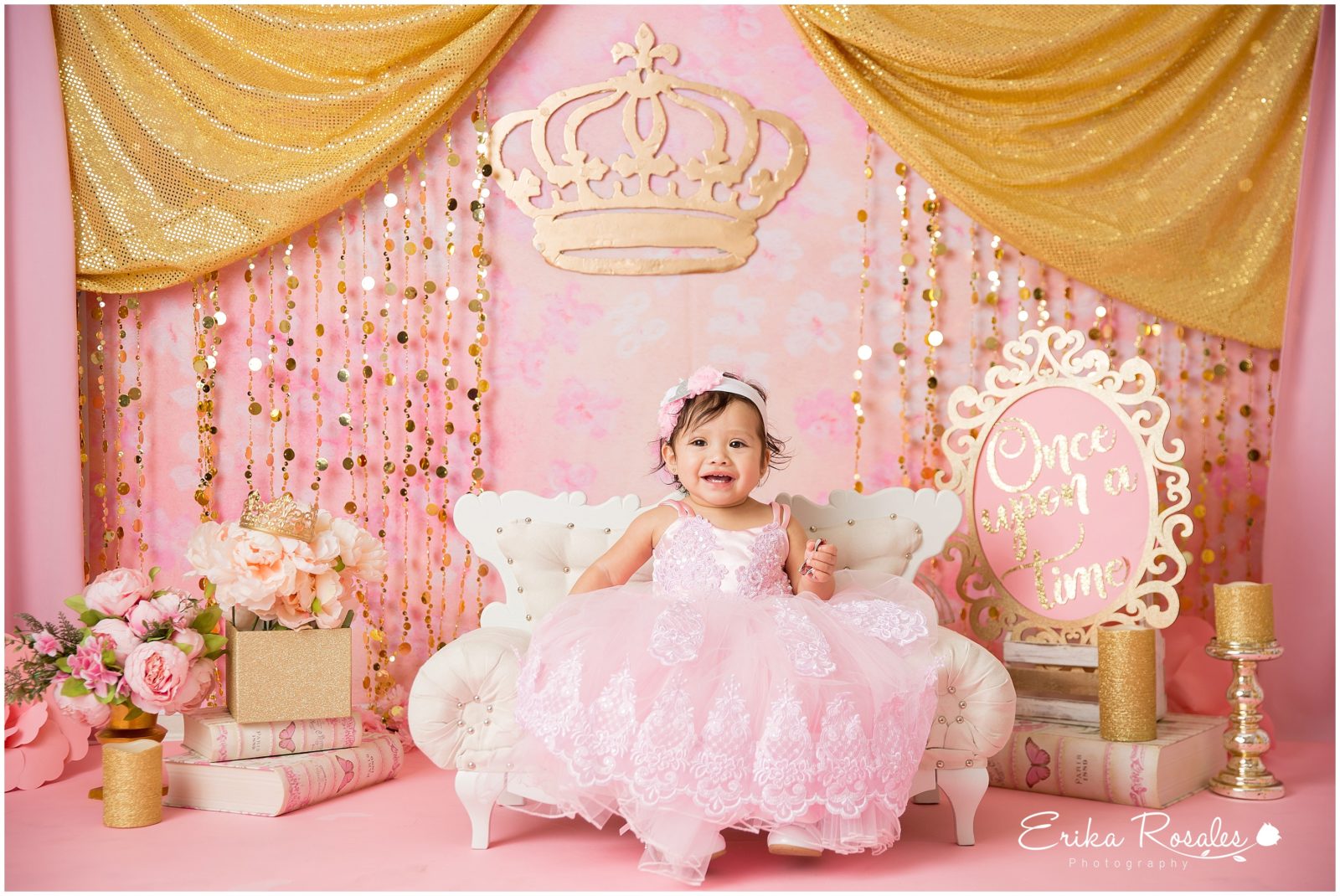 ---
What is the investment?
From session fee $600 thought digitals photos or products as Canvases, Prints or photobook your investment can be up to $1500.
(Garland Balloons, Banner name)
BOOK NOW
(Garland Balloons, Banner name)
BOOK NOW
Do I get the images right away?
It will be ready in 10 business days, after the session.
You will receive online gallery to share with friends and family and have 4 week to purchase prints, digital, canvas or pothooks. The online gallery will available for 4 weeks.
Do you retouch my images?
We do basic retouching if you want for skin retouch will take us more time, you have to come back the next day to pick them up, let us know if you want heavily retouch there is  extra charge for it.
Can I  download from online gallery digital photos?
The online gallery is for proof only. If you want digital photos you can purchase one photo only or the whole gallery.
If you want to buy individual you can buy one digital photo for $25 and many as you want.
Digital photos are high resolution images that you can prints, enlarge at your nearest photo studio, Also great to share in social media.
What are your prints pricing?
4X6 $20     5X7 $20      8X10 $40    11X14 $80      16X20 $120 – For more bigger size please send me a request
What are your canvas pricing?
Canvas start $80 8×8
What are a photobooks and what are the price?
Photo books -8×8 20 pages $395 -12×12 20 pages $495
Do you charge Tax?
For our service fee we do not charge tax. For printed items, yes we charge tax, at New York State Tax Rate
Can I bring the whole family?
Our Cake smash session is just for the birthday baby. If you want to do a family portrait in the same day is additional.
Do you made the cake?
I wish.But not. I work with one of the best bakers in the Bronx. Martha, from Baking Smiles. She loves to bake and design the yummiest cakes. We work as a team to make sure cake is beautiful and yummy,
Do I choose my design of the cake?
We love when moms bring ideas, Pinterest boards and we can include ideas in the design of the cake.
Martha and I work as a team, First we secure your date and then according with the plan of the set up's colors and the theme we process to work in the design of the cake. However keep in mind that the cake is design for smash and to be destroy. Fonda or special filling is not part of the design.
What happen if I have an emergency or my baby is sick, Can I cancel or postpone my session?
Don't worry. I am a mom too, And emergency and sickness can appear in the plans.
The most important is to have a healthy baby with a lot of smiles.
If the session is postpone in less than 48 hour, will be charge 50% of the deposit will be not refundable. And can be reschedule for another day available.
if the session is cancel (decide that not more interest to do the session) or last minute postpone 100% of the deposit is not refundable
Do you allow taking pictures or filming with my cellphone o camera ?
More than a session for me more important is to experience with your baby his/her first birthday celebration. For best results and for you to enjoy the experience I don't allow any cellphone or cameras in the session. Sometimes parent are more focus in the video than experience the fun and joy of the baby moments. Also is a distraction for the baby. However if interest in keep your baby first birthday memories in video. I have an expert film maker, Miguel. Please let us know in advance to have prepare the camara . Additional fee will be added Click here for more info for Photo Session Video, we call it Behind the scenes
Can I buy this special promotion for someone else?
Yes we love gifts, book now and we will email a gift card
Do you publish my images on the internet?
We can't resist not to show our images, we will sent you by mail a contract for you to sing to allow us to publish on social media and online gallery. we usually publish one image per session but we respect your privacy, just let us know if you don't like to be famous.
I am ready to book my session, What I need to do?
Contact Me
Where are you located?: I am located in Bronx NY. Little Italy Neighborhood.
I have more questions…help.
Sorry i just run out of space in this page but, i will be more than happy to answer your 101 questions just contact me at (347)951-9976
Terms & Conditions
Copyright Agreement
Erika Rosales Photography, has full copyright of photographs unrestricted right to use and publish videos and/or photographs on any social media; Facebook, Instagram, website/business
Payments Agreement
Deposit must be paid upon signing to hold the date and time for the session. 
Balance due 2 days before the session
Schedule Agreement:
If you are late for your session, your session will be cut short by the amount of time you were late. 
15 minutes late, the session will be canceled
Cancelation Policy
Deposit is not refundable. A deposit is made to secure a spot.
Nonrefundable for last minute reschedule
Reschedule Policy
If you end up having a conflict with your date, we can try to move you to another date ONLY IF there are spots available. 
Must call 48 hours (business day and during office hours) before the session time and date. 
There is a 50% fee of the total deposit if rescheduled less than 48 hours (business day and during office hours) before the session time and date.
Nonrefundable for last minute reschedule