What a happiness to know that someone grows inside you.  If you are planing to have a maternity session to keep your memories from this special stage of your life. Here some information you need to know before the session.
 The best stage for pregnancy session is between month 7-8. At this stage your tummy can be noticed more and also is perfect because the symptoms of pregnancy has passed. Besides this stage you still do not feel so tired, If you wait a little longer, you may feel more tire and uncomfortable for some poses.
The session can be by yourself only. However your partner and baby's siblings are welcome.
I provide maternity gowns and accessories.And fabric If you wish to use it. You can choose you favorite color.
I Love props. Sonograms photos are perfect to incorporate in your session.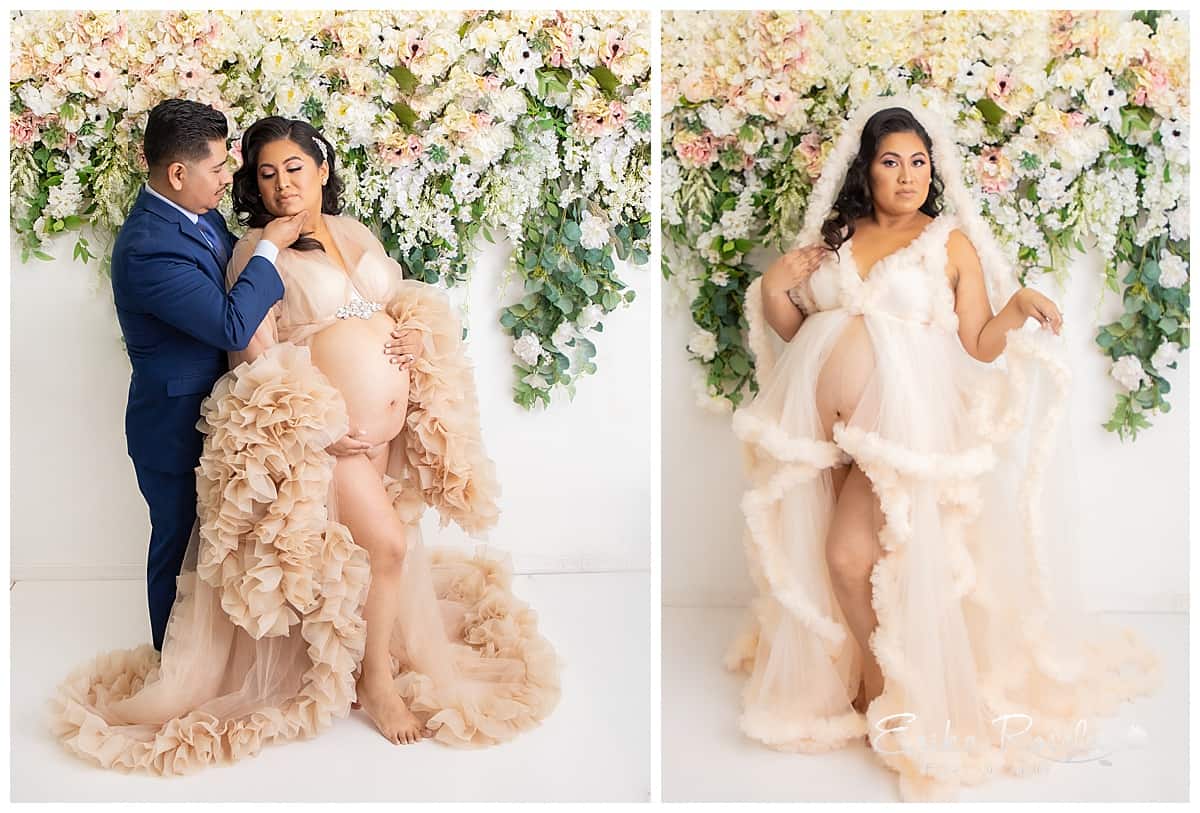 ---
Maternity Collection 1
$350
Digital photos, Prints, Canvas and photo books can be purchased after the session
Time, Service and talent of the photograph and staff
BOOK NOW
Maternity Collection 2
$400
Digital photos, Prints, Canvas and photo books can be purchased after the session
Time, Service and talent of the photograph and staff
BOOK NOW
What is the investment?
$350 or $400 Include consultation, time and talent of the photographer & complementary props (Maternity Gowns available to use).No photo include
Do I get the images right away?
It will be ready in 5 business days
You will receive online gallery to share with friends and family and have 4 week to purchase prints, digital, canvas or pothooks. The online gallery will available for 4 weeks.
Do you retouch my images?
We do basic retouching if you want for skin retouch will take us more time,  let us know if you want heavily retouch there is  extra charge for it.
Can I  download from online gallery digital photos?
The online gallery is for proof only. If you want digital photos you can purchase one photo only or the whole gallery.
If you want to buy individual you can buy one digital photo for $20 and many as you want.
What are your prints pricing?
4X6 $20     5X7 $20      8X10 $40    11X14 $80      16X20 $120
Do you charge Tax?
For our service fee we do not charge tax. For printed items, yes we charge tax, at New York State Tax Rate
How many poses do you take?
As many as you want, session last about one hour and you can have two change of outfit
Can I bring my family?
Maternity session can be by yourself only, Your partner and siblings are welcome too. Additional fee
Do you allow taking pictures or filming with my cellphone o camera ?
For best results we don't allow any cellphone or cameras in the session, however we do some videos and we cam make slideshow, please let us know in advance.
Can i buy this special promotion for someone else?
Yes we love gifts, book now and we will email a gift card
Do you publish my images on the internet?
We can't resist not to show our images, we will sent you by mail a contract for you to sing to allow us to publish on social media and online gallery. we usually publish one image per session but we respect your privacy, just let us know if you don't like to be famous.
Where are you located?: I am located in Bronx NY
I have more questions…help.
Sorry I just run out of space in this page but, i will be more than happy to answer your 101 questions just contact me at (347)951-9976
Contact Us